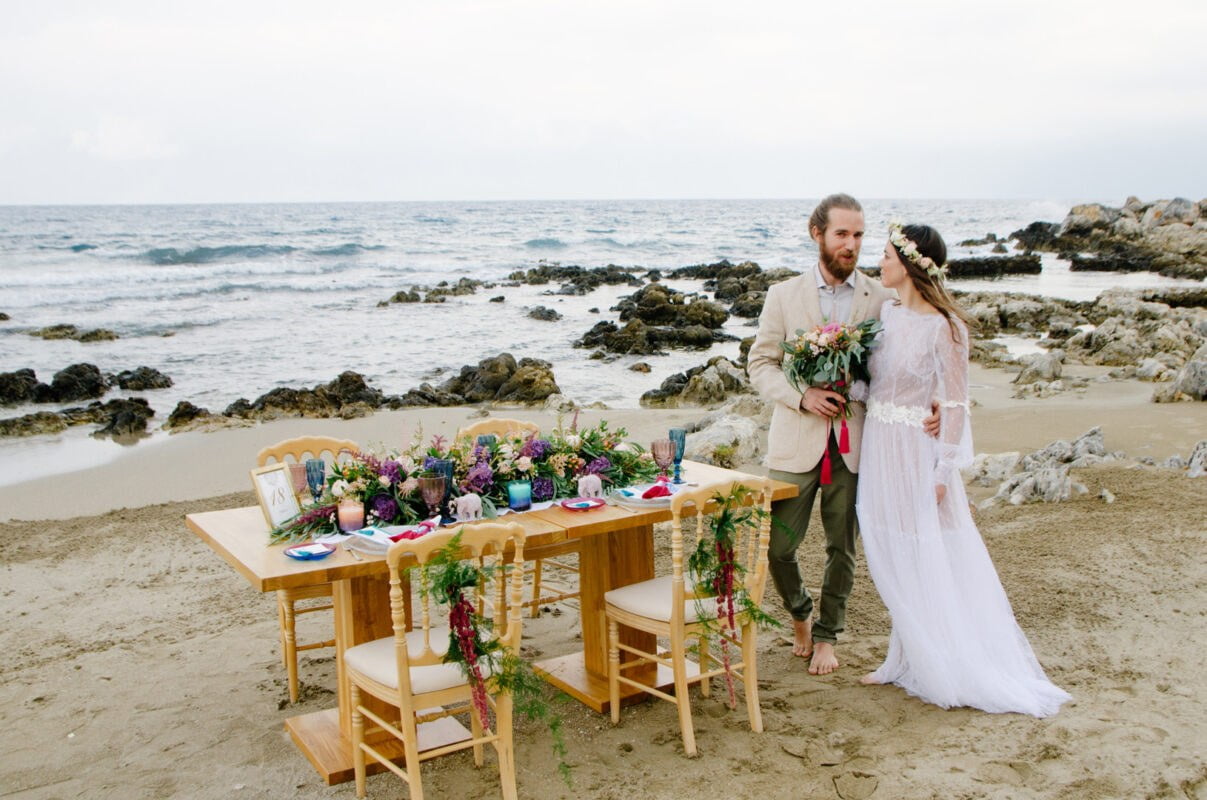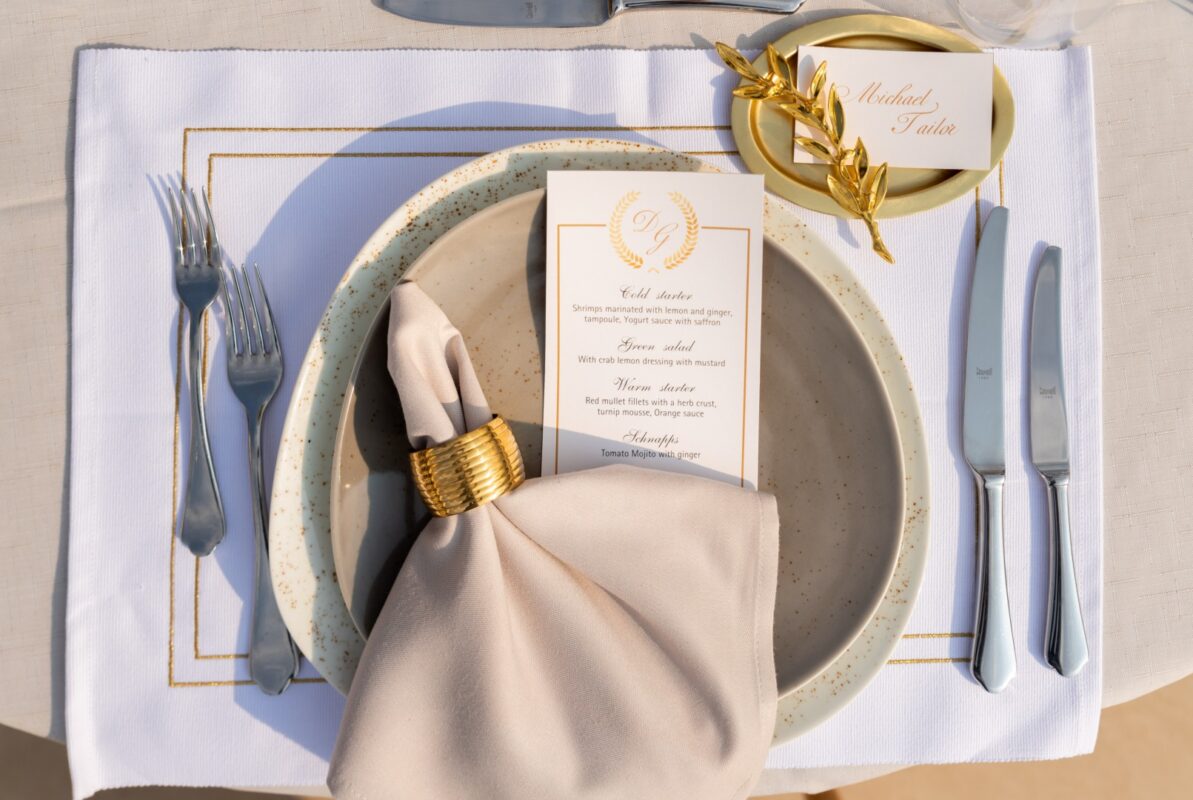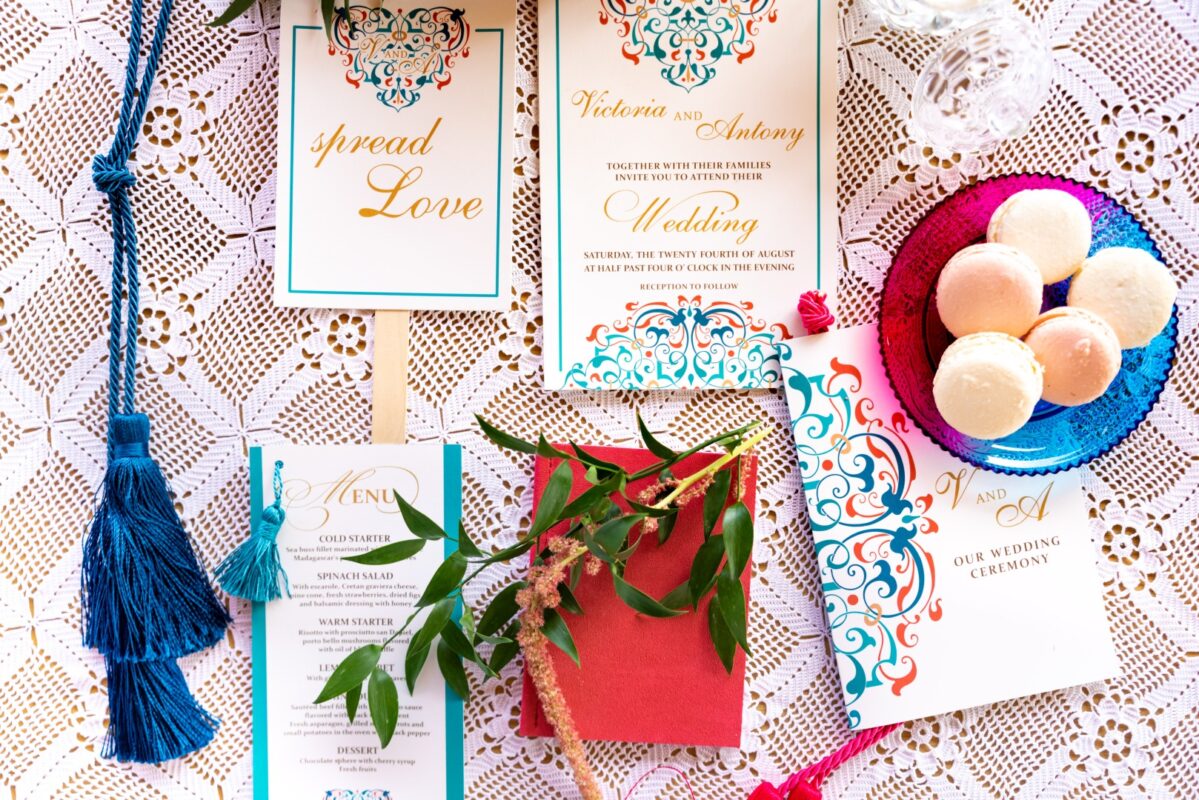 Say "YES I DO" in one of the most idyllic wedding destinations in Crete, celebrating your special day on the coast.
From discreet ceremonies, unique moments for the couple and their guests to glamorous parties and individually designed events, our team provides complete and personalized design, organizing some of the most unforgettable luxury weddings in Crete and the Greek islands.
Luxurious resorts and natural landscapes of unique beauty are offered with a number of venues, as well as with a dedicated and experienced group of events, to host small and medium-sized ceremonies, parties and special events
Weddings
Civil service weddings

Beach lovers take advantage of the private sandy beaches and exchange vows of eternal faith on the beach with a unique view of the clear blue waters and the Greek sunset.
Symbolic weddings

We design your symbolic wedding ceremony from AZ. We choose the space exclusively for you, the theme and the decoration, including you enjoy your big day without stress.
Greek Orthodox weddings

We are planning for you a traditional religious ceremony in a historical or picturesque Greek Orthodox church / chapel celebrating your wedding in a landscape of unique natural beauty (countryside, small traditional villages, estates wineries, etc.)
Vow renewals
Renew your vows, marking your special anniversary in a romantic way. We plan with you an essential and moving ceremony surrounded by friends and family in an exclusive space of your choice or we undertake to organize a unique day of "escape" in a quiet shelter, specially designed for you where through a pleasant note of Cretan, wine and gastronomic hospitality will rekindle your special romance.
Wedding receptions
After planning your ceremony, planning your reception or event party requires a lot of organization, collaboration and preparation.
Places to reserve, menu and decor options, seating arrangements and more. Consult us for tricks and all the tips you need, from Dress the Venue – Dress Up Your Entryway – Make a Seating Chart – Send Save-the-Dates – Map Out Your Space to Whip Up Affordable Favors – Depart in Style – Mini bar & Cake – Bands & Music etc..
We guide you through what to buy, who to talk to and when to do things so you can budget, coordinate and stick to a schedule effectively. There are some things that are given, like choosing a venue, but there are some things that you may not have thought about. These include entertaining your guests (with things other than music), and other things you need to do to make your event go as smoothly (and as enjoyable) as possible for both you and everyone who attends. you have invited.
Your personal concierge
Celebrate with a heartfelt service from event and hospitality professionals with exclusive use of the venue of your choice, personalized planning, staging and decoration and sophisticated concierge services.
Take your Greek experience to another level!

We take the stress out of your special day with our Lifestyle Exclusive & Trustworthy concierges
 Planning a Premium Wedding in Greece
 A perfect wedding planner guarantees not only an interesting and carefree preparation for the couple, with personal care at all stages and in every detail, but also a unique experience on the wedding day with the best memories for a lifetime.
The first step to planning your dream wedding is to save a date! Contact [email protected] with your preferred date and number of guests and our dedicated event coordinator will guide you through the next steps, including local registry (Registry) requirements.
Planning an international destination wedding can sometimes seem overwhelming bureaucratically and difficult due to the immediacy of communication, but rest assured that our team is here 24/7 to help you with every detail.
We undertake the process of civil marriage documents for foreigners who do not permanently reside in Greece. The necessary supporting documents that need to be submitted by the foreigners concerned (for each one separately), as long as they do not reside permanently in Greece, in order to perform a civil marriage
Our packages
The Gold Edition Wedding Planning – is a Full Package Planning Services. Usually starts 12 months before the wedding date and is designed for couples who wish to their dream wedding by seeking a professional approach to full organization throughout the event from A to Z.   It includes help in all steps of preparation:
starting with the documents for the wedding permit, just after the hotel choice,
for the ceremony (religious wedding, political or outdoors) and the reception area,
catering and all the required partners,
ideas for the bachelor party,
suggestions from other hotels if needed and means of transportation for the wedding group,
guest list,
decoration study,
follow-up orders & partners,
checklists and regular contact information
suggestion Gift Box for the guests
the timetable of the wedding day with our personal presence on the day from early morning up to the evening reception for smooth coordination.
The Extras of the Hotel/ Venue
Wedding Management & Consulting package-is designed for couples and brides who want to participate actively in organizing their marriage by having already made some preparations. Or wish to take part in the organization but at the same time need the help, professional approach and experience of the wedding planner, who will guide their steps and will connect all the pieces of the event, providing time saving and a thoughtful result.
This package usually starts 9-12 months before the wedding date and includes assistance both in the various stages of preparation and in the presence on the wedding day for coordination  of all actions.
Schedule designed to relieve the bride from the stress of preparation,
decoration ideas,
choices and solutions that fit exclusively to the personality of the couple and offer peace and quiet on the day of marriage!
The above packages include the concept – Suggestions – Ideas, Graphic design, wedding dress or Suit proposal, Flowers (wedding bouquet – bridesmaids – corsage), ceremony, vows, speeches, wedding reading, decorating and setting up with staff, supervising a scene for photo shooting and coordinating the hotel/venue extras and the first dance. Florist set up, hairdresser and makeup services, photobooth, balloons, DJ program, lighting, video & photos are not included.
The Wedding Design & Styling – it is designed for couples who have considered their wedding concept and decoration in general, but are missing the final details and finishing touches that make the difference. Wishing to organize their wedding themselves but want someone to take over the latest details, arrange orders, correct if something is possible in the last few days, and coordinate the wedding day from early morning to the evening reception to make everything runs smooth and relaxed.
It ensures peace and confidence to the couple and their families that their wedding day is in good hands with professional experience and supervision in every detail! This program is preceded by a full analysis of the event, a visit to the places where the mystery and the reception will take place, the follow up of all the partners. But also wedding planning tips which can prevent a last minute disaster!
We can start 1 month before the wedding, but the date need to be kept 2-3 months before.